Success Story of Shri. Morning War

Shri. Morning War, 62 years of age, hailing from a village Lawsohtun, which is about 5 kilometers from Shillong. He has a plot of land not less than 2 (two) hectares and his hobby is to grow flowers right from his childhood. He always concentrated mostly on Indigenous Orchids Collection and has good varieties of them. He along with his wife took keen interest in this field where they would spend more than 3 hours a day attending to their care. Being a "Lover of flowers" and as time passes by, after retiring from his service he was able to expand more and more area in his interest..
Apart from all these and because of his hard work and dedication he always took keen interest in approaching the Department every now and then for Technical Guidance and Incentives. Later, with the launching of Technology Mission Scheme in the State, Shri. Morning War has received some assistancefrom the Department. First of all, the Department has helped him by giving one roll Shade Net and 50 nos. of Cymbidium Hybrid. The second assistance he received is the Installation of Green House of (50 sq.mt) and 250 nos. of Cymbidium Orchids. Because of his success in this field, the Department has also open ways where he was selected to attend two trainings outside the state; one in Sikkim for "Orchid Cultivation" and the other in Pune on "Green House Management" and cultivation of Rose/Carnation/Gerbera. The third assistance that he received from the Department is another Green House of 50 sq.mt along with the planting materials of Gerbera and Carnation. It was with the help and the assistance from the Technology Mission that he has been able to broaden his activities. With the proper technical guidance which he received he has been able to master and take care of his flowers. Later, the Department has rendered assistance to him by installation of Drip and Sprinkler Irrigation, Vermi-Compost Unit and Tube Well.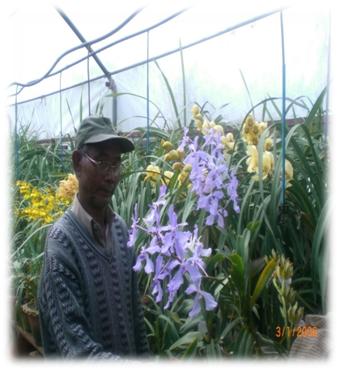 Seeing the potential of the floriculture trade in general and cut- flowers in particular, he has increased his cultivation by clinching more steps of expanding his green house by installation of a Hi-Tech Green House of 200 sq.mt along with the planting materials thus enlarging his flower nursery as a bigger set up and as a result more flowers were raised and sold to his valued customers and flower lovers. This has enhance his activities where he was able to market cut flowers without any difficulty, by earning more than 1(one) lac Rupees only from the sale of cut-flowers annually. The story of Shri. Morning War commendable success through the implementation of Technology Mission which is a clear example of the effectiveness of the scheme provided the farmers take keen interest and work hard in improving their livelihood, as Bah Morning War narrated and praised "The Department has helped in shaving my life and has paved the way to success".
Thus hard work and perseverance can break the barriers of impossibility