Success story of Smti. Shamoris Lyngdoh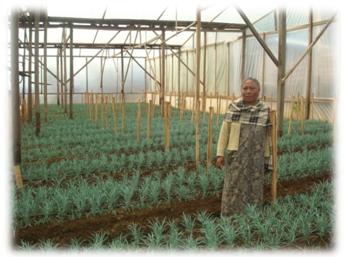 The Floriculture potentiality of the district have proved a good harvest of revenue to the enthusiast flori -growers.Carnation, a focus flower of the district have been cultivated in green house in cluster area inMairang, Mawkyrwat and Nongstoin under aPPPmode with Zoppar Exports and North Bengal Floritech.The district production of carnation cut flower during 2010 is about 5,39,310 Nos with a total revenue of Rs 14,83,103/-.The unit area of green house range from 200 sqm to 500sqm.
The impact of floriculture in the district has giving rise to own area expansion by some flori -growers at Mairang and Nongstoin.It is interesting to note that many flori growers are now not hesitating to buy planting materials. Smt. S. Lyngdoh of Mission Mairang village an enthusiast flori-grower owns a 200sqm flori green house with a turn over of about Rs 80000/- annually , is now expanded through her own resource for 600sqm.To cite a few more flori-growers like Smt. W. Lyngdoh of Mawshut village and Smt. S. Mawnai of Mission Mairang village are also on their own resource have expanded their floriculti-vation.
Fig:Floriculture in West Khasi Hills District