A Fragrant Tale continued

Bernadette Khongsngi, former housewife, present day farmer entrepreneur, resident of Umran village located about 35 Kms along National Highway No 40 connecting Shillong to Guwahati. With seven children and a village teacher husband, she is the epitome of a normal Khasi housewife but with one exception; she is also a business woman. Originally hailing from Sohra, famous for its rains, Bernadette moved from her ancestral village and came to settle in Umran in 1992.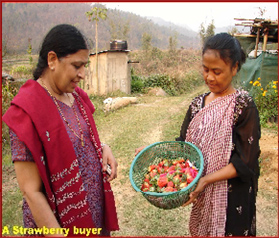 Having initially tried her hand at growing paddy, ginger as well as poultry, piggery and brick making, with not much success, Bernadette was selected as a floriculture beneficiary under the Technology Mission in 2002-03 and was provided with one low cost shadehouse, 6000 bulbs of Gladioli, 5000 Liliums, Amaryllis, Carnations and Hyacinth to test the suitability of these flowers in the area. Lilum and Amaryllis turned out to be successes but not Gladiolus while Carnations was successful but not profitable.
Taking note of her sincerity and love for flowers, Bernadette was encouraged by the office of the District Horticulture Officer, Nongpoh, to expand her activities under floriculture and was given a vermicomposting unit to generate compost for her plants. Incidentally she is the first woman farmer to produce vermicompost in the District. This helped her a lot as she not only had com post of her own but she could sell it too. In 2004 Bernadette along with five of her friends formed a women SHG called Kyntiewlang Women's Group which has now expanded to seven members and is engaged in activities like strawberry cultivation.
In conversation with us, Bernadette or Kong Ber as she is fondly called, informed that she is sending only Liliums to the Dewlieh Horticulture Farm for grading, packing and marketing by ZOPAR Exports Pvt. Ltd, while her gerberas, Anthurium , potted plants, etc are being sold in the markets of Shillong as well as meeting home orders. Discovering that there exists a very good demand for potted plants, she has now taken the initiative to travel to nurseries in Assam to source good quality and exotic planting material, which she brings back, multiplies and then sells for a tidy profit. Recently she has also started the business of making bouquets for people which she says is slowly picking up. She has also participated in many seasonal flower shows being organized by the Regional Rural Training Center (RRTC) Umran as well as study tours conducted by the Department and has a sheaf of certificates to prove it.